We will be offering a limited number of new construction homes priced under $400,000 in Westminster, for Summer 2019 completion. Please use the GET IN TOUCH form to request more information!
All of the homes featured here were built by The Normandin Group, a family-owned business based out of Westminster. The Normandin Group has also built in Harvard, Princeton, Shrewsbury and Worcester.
One of the first things you will notice about The Normandin Group's homes are that the standard features are of a higher quality than you'll see in other many new construction offerings in the area. Buyers who are involved early have input on the layout and floor plan, choose their siding, cabinet finishes and hardware, flooring, lighting, paint colors and more!
Optional upgrades
For buyers who would like to further customize their new home, we offer a wide range of options. Popular upgrades this year have been finished space above the garage, custom carpentry (such as mudroom space, built-in bookshelves and workstations), soaking tubs and fireplace surrounds.

Click here for a few Normandin Group buyer testimonials.

Caouette (2,504 square feet)



The buyers of this home were involved from the beginning, thoughtfully making stylish choices every step of the way. There's wide plank pine and tile flooring throughout the home, a private first floor home office, a mudroom area especially for their dog Honey, built-in bookshelves and window seats. They also selected 3 panel interior doors, stone faced columns and exterior shakes on the farmers porch to bring in some Craftsman style to this home. My favorite feature? The window wall designed specifically to capture the views of the ski trails at Wachusett Mountain. More photos
Bourgeois (2,200 square feet)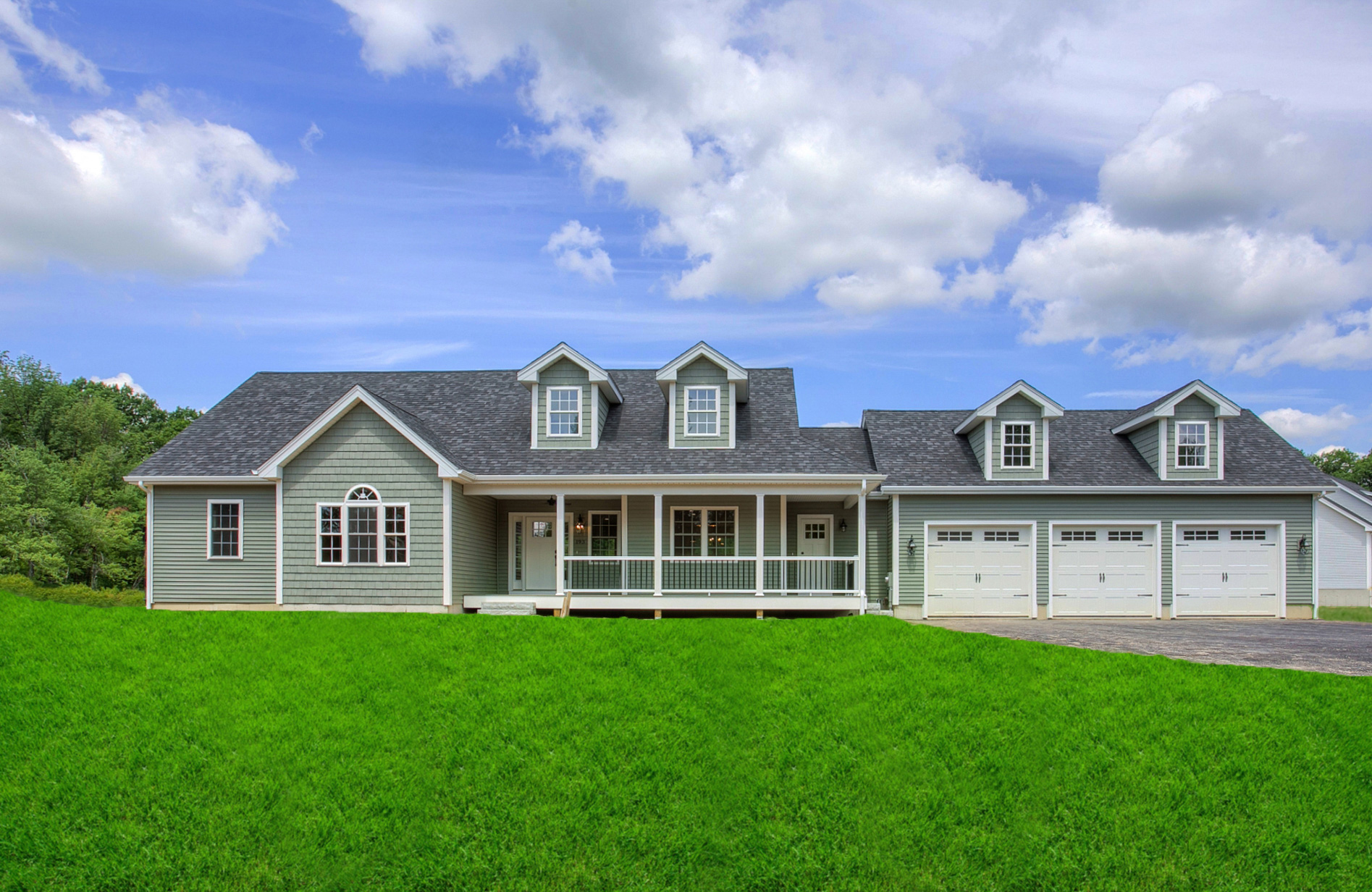 This executive ranch style home started as an idea the buyers had after saving a newspaper clipping of a home plan that they liked. The buyers were involved in all design decisions and built their dream retirement home, complete with a 3 car garage, Kitchen Pantry, Master Bathroom tile steam shower, barn and pocket interior doors, and so much more. More photos
Barton (1,971 square feet)

This home is ideal for all first floor living, and has the master bedroom on one end of the house and the other two bedrooms on the opposite side. The buyers chose to customize this home in many ways, including custom built-ins and wide pine flooring throughout. This home is located at 189 South Street, Westminster. More photos
Snowberry (1,927 square feet)

This home was built at 100 and 102 State Road West in Westminster, and has three bedrooms, an open Kitchen, Dining Area and Living Room on the first floor as well as a study that can be closed off as a private home office if desired. There is a half bath and laundry on the first floor and 2 full baths upstairs, including a master bathroom. The master bedroom has 2 walk-in closets. Contact me for floor plans!

Snowberry (2,215 square feet)


The highlight of this three bedroom home is the Family Room that extends from the Kitchen/Dining Area opens to a spacious area with a cathedral ceiling. There's also a first floor study that can be closed off as a private home office if desired. There is a half bath and laundry on the first floor and 2 full baths upstairs, including a master bathroom. The master bedroom has 2 walk-in closets. Some buyers have opted to finish above the garage for a home office or huge additional closet/storage area off of the Master Bedroom.

Snowberry Hip Roof (2,480 square feet)


This hip roof design has a Snowberry interior design with double front doors leading to a full length farmers porch. The buyers chose to expand the footprint of the house with a 24′ x 24′ family room with a drive-under garage, gaining square footage that was important to them. They also opted to double the size of the master bathroom in order to fit both a shower and a large soaking tub. More photos

Snowberry (2,768 square feet)

This home was designed by two very stylish buyers who selected colors, light fixtures and every bit of custom carpentry in this home. These buyers took the Snowberry floor plan and put in a few extra windows, finished above the garage and added a custom mudroom and home office space to create their dream home. Don't miss their testimonial about working with this builder. More photos

Farmhouse (2,353 square feet)


The Farmhouse model homes switch it up a bit, with a front-to-back layout. This three bedroom home features a wide open Kitchen, Dining, Living Room area with a corner fireplace and a sunroom adjacent to the Dining Area. It also has a first floor room located at the front of the house for buyers who want a first floor study, play room or home office. The main staircase is off-center, which is part of the charm of the open concept first floor. A common upgrade option that buyers choose on this house are custom built-ins in the mudroom between the garage and Kitchen. Click here to see photos of a similar Farmhouse model home after completion. This floor plan is also available with a fourth bedroom option over the garage. Click here to read these buyers' testimonial about their home building experience.

Dover (2,860 square feet)

This four bedroom home has two potential floor plans. Both versions have an offset family room above the garage that creates a 24′ x 24′ bonus space. The traditional staircase in the center of the home allows for four bedrooms. If buyers prefer that the stairway to the second floor is off of the family room, then the fourth bedroom will be larger. The Kitchen has an oversized island, a butler's pantry style hallway with cabinets and extra counter space, a large breakfast nook and a comfortable seating area for couches and occasional chairs, resulting in a Kitchen that is nearly 400 square feet, with a dedicated adjacent dining room. Click here to view photos of this home while under construction.

Many of these homes detailed here have been built in Westminster and can be customized to suit a buyer's taste and budget in many towns. Use the Contact form on this page or call/text me at 9788709260 or email jennifershenk@KW.com for more information and to brainstorm your dream home!