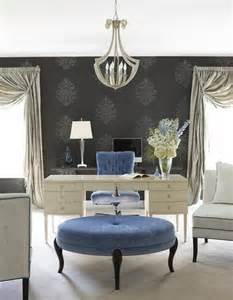 Check out my new home office! I've been working on it all weekend.
I wish this was my office. My current and temporary home office, after of a whole bunch of moving this weekend, is pictured below–shown in black and white to emphasize that it's in the basement (old license plate left on the wall for decorative effect). I've been a bit transient lately. We sold our house in Westminster almost a YEAR ago and moved into my parents' home with an in-law apartment–to test drive the concept of multi-generational living, people with pets and teenagers living under the same roof as people who haven't had pets or teenagers in a very long time. People who like to have every flake of snow off the walk with those of us who prefer to wait for it to melt. You get the idea.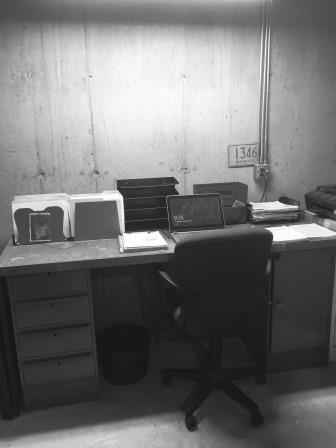 We actually think it's going great and haven't had any issues.
Now, if only we could find a permanent house that more closely meets our needs. NAMELY, our two youngest daughters are having a rough time sharing a bedroom. I know, it's good for them, they will eventually be closer, it builds character…but one is a senior in high school and the other just turned 13. We've been working on their morning routine, since that is a major source of friction between them. It's a schedule that's almost guaranteed to fail without some adult intervention and tweaking.
The main morning problem is that the older one gets out of bed on time, and is always ready when she should leave, but she has to get her sister to school first. The younger one is a bear to get out of bed, and needs to be at school about 15 minutes earlier than she wants to in order for the older one to be at school in enough time to get a parking spot at the high school. It's ugly. Five days a week.
In order to reduce friction somewhat, I decided to give up my office so that they can at least sleep in separate rooms. So, this weekend, the little one will get a new room. Luckily, I found a spot in the basement (it's a very nice basement) to keep my files and folders. The reality is that I mainly sit at the dining room table when I'm working anyway, so my office was just a huge filing cabinet and catch-all.

Which brings me to my next subject. What is GOING ON in the local real estate market? I've got 5 buyers I'm working with who are waiting for 'the one' to come on. If a house comes on at the right price, it sells immediately.

If you have any questions about real estate in general, or specifically about a property you own or want to own, or just want to know what the first step is to buying or selling a home, be in touch! Jennifer Shenk, Keller Williams Realty North Central. Call or text 978 870 9260, email jennifershenk@kw.com or you can message me through Facebook.
I work with both buyers and sellers. My service area includes about 15 cities and towns in Central Massachusetts and I have access to a huge network of agents to connect buyers and sellers who are outside of Central Massachusetts. I wanted to share this testimonial I received recently (posted below, unedited). I loved working with these buyers and so appreciated their flexibility and great attitudes through the purchase process. If you want to know what buyers and sellers consistently say about me, click here. Have a great week!
From recent clients Zeus and Christine Kerravala:
"We would highly recommend Jennifer Shenk when selling or buying Real Estate. She is very honest, trustworthy and hard working. Among the numerous other characteristics that Jen has she is a very patient person and we think that is important in this position. Jen is always attentive to her clients and responds in a timely manner. We have heard many great things about her in our community and this is why we sought her out to help us."
A few preview photos of 67 Bean Porridge Hill Road, Westminster.