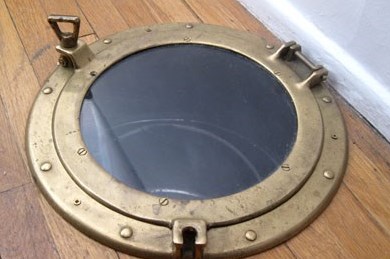 This morning there was an article in my favorite section of the Wall Street Journal. It's a Friday section called Mansion. The houses are a little (lot) out of my price range, but this section often has very interesting articles. They sometimes interview famous people about the houses they grew up in and usually have a theme to their articles each week—for instance, houses with indoor basketball courts, houses with secret rooms, houses where criminals lived, houses with Summer Kitchens…you never know what the week's theme will be.

This morning's article that caught my attention was called A Steel-Clad Home in London. I don't know much about London and I have very little interest in living in a steel home, but for some reason I was drawn to read this article. Which, it turns out, gave me a GREAT idea to help me! The Crap Chute.
We have great kids, all of them, but none of them would ever win any prizes for neatness. When I saw the WSJ article on the house in London, I thought 'Wow, those parents seem much more fun than me'. They actually installed a slide from their main level to their basement. It's nice and wide and brightly lit and their basement floor even has artificial turf with extra padding underneath.
Somehow, my brainstorming must have been in high-gear because next thing I knew, I was solving a few of my problems. Moms and Dads, be jealous.
We sold our house last Spring. It was 225 years old. When we bought it there was a forced-hot-air heating system. Right out of the chute we had a big expense because it turned out our daughter's allergies were awful in the new house and her allergist said the ducts in an old house were likely the cause. Apparently ducts can be a breeding ground for all kinds of things that Jane was sensitive to. Next thing we knew we were having a forced-hot-water heating system installed. We shoved insulation in the old heating system grates and forgot about them. *Until one day where Mom couldn't take it anymore.*
Here's what I did–I went over to Maki's Lumber in Gardner and bought a big sonotube—it is about one-foot in diameter, and 4' long. I went down to my lower basement and located a convenient spot where one of the old heating vents from the main floor drops down into the lower basement. I bolted the tube to the underside of the vent. Then I treated myself to one of those huge light green barrels that you see landscapers using for yard cleanups. I put that in the basement. Under the sonatube. Do you see where I'm going with this?
I called it the 'Crap Chute' … when I came home to a messy house and had the energy or inclination, I'd just walk around and pick up things that were left where they shouldn't be. Sneakers in the living room, whoosh, down the chute. Clothes on the bathroom floor—it doubled as sort of a laundry chute. Coats that forgot to be on their hooks, gone. Bike helmets on the Kitchen counters, etc. I'd just lift the grate on the Crap Chute, and down it all went.
The kids were welcome to go down to the lower basement and retrieve whatever they want from the barrel—I didn't confiscate anything…I just didn't want to see their stuff all over the place.
My thought was, after a few trips down two sets of stairs, they'd be sick of having to travel so far to get their shoes, clothes, uniforms, etc. I didn't know how I'd manage art supplies, tennis racquets, and skateboard-ish items, but it was a start.
If you know someone who is just starting their home search process, or if they've wandered around going to Open Houses without a buyer agent, please suggest they get in touch with me. Buyer representation doesn't cost the buyer anything and it can make a world of difference in a home purchase.
Thanks for reading. If you would like to get my blog delivered to your email every week when it's published, just let me know and I'll get you signed up to receive it.
You can always contact me through my website at www.jenshenk.com, email me at jennifershenk@KW.com, like my Facebook page or call/text me at 978 870 9260. If I can help you in any way, please let me know.

I'm working in Real Estate because I enjoy getting to know houses and helping people find where they want to live, so remember–If you are thinking of buying your first home or selling your home and moving up or downsizing, I'd love to help you. If you're curious about the value of your home, contact me. If you'd like to get a daily email alerting you to homes that are for sale within your desired price range and zip code(s), just give me a call, text, email, fill out my contact form, etc. I'm very easy to find!